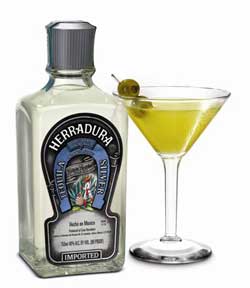 Here is how to make a Mexican Martini from Trudy's Restaurant in Austin, TX.
It is really popular because it's big and full of booze!
The ingredients are 2 parts Tequila, one part of triple sec or Cointreau or Orange liqueur, one part orange juice, one part lime juice, and one to two parts of Sprite.
Add to your shaker and shake well. Pour into a salt rimmed glass with olives.
If you want a bit of kick, Tex-Mex style, you can stuff the olives with jalapenos. It's a delightful drink, so try it out!
You may also enjoy this tasty French Martini Recipe, so have a look!